Brand Strategy and Stakeholder Reporting
Ontario Teachers'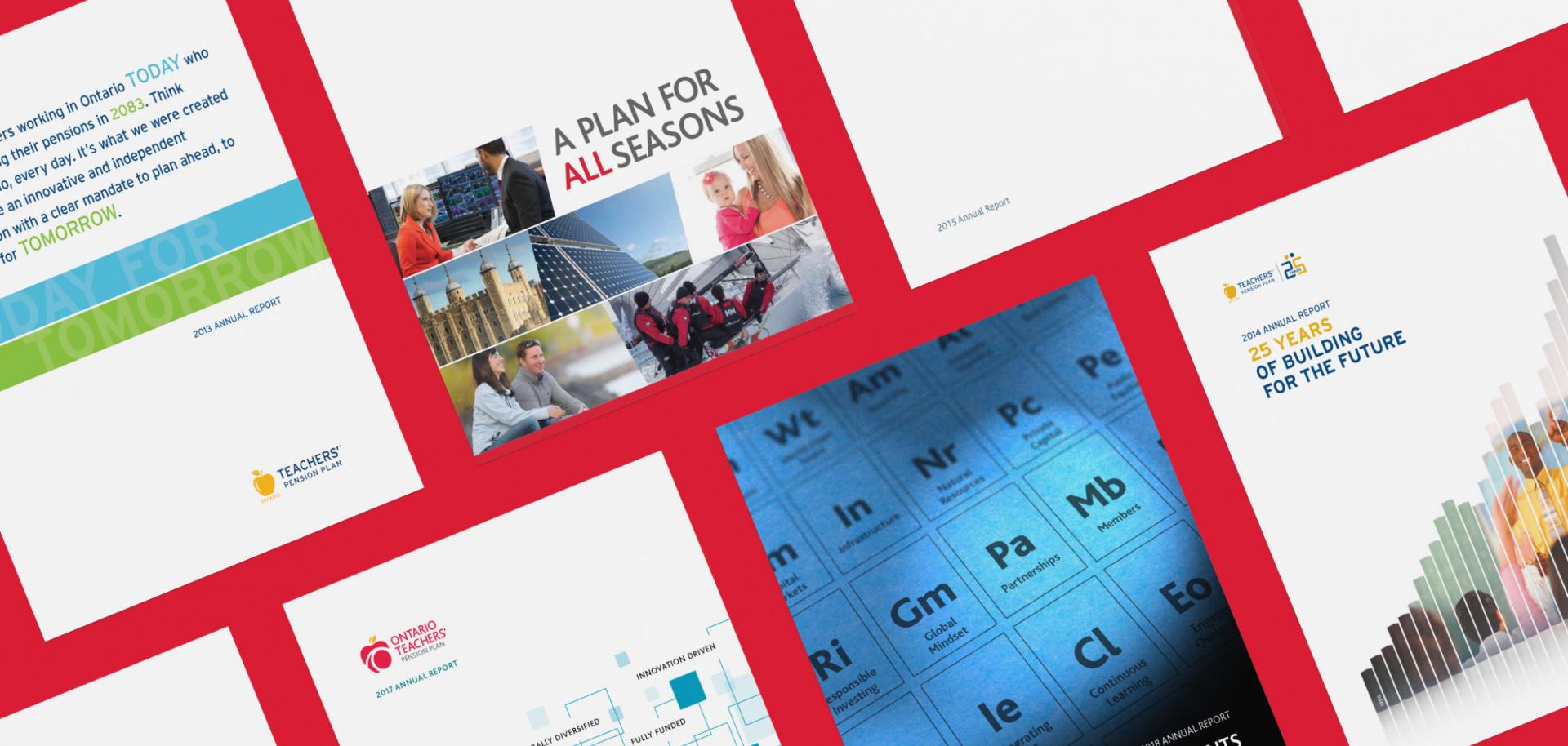 Helping an investment pioneer stay ahead of the curve.
What We Did
Brand Strategy
Copywriting
Design
Production
Stakeholder Engagement
Client

A crowded class
Ontario Teachers' is Canada's largest single-profession pension plan. When it launched in 1990, with a mandate to operate as a professional investment organization, independent from its sponsors and focused on generating returns to pay pensions, it established a model that fundamentally changed the pension sector. But this success spawned many imitators. By 2015, operating as Teachers', the pension plan increasingly found itself in more intense competition for opportunities, often against other pension plans, a number of which also represented teachers. Faced with this reality, the organization needed a brand that would differentiate it from competitors and reinforce the positive associations that people have with Canada and Canadian pension plans, while also appealing to a truly global marketplace.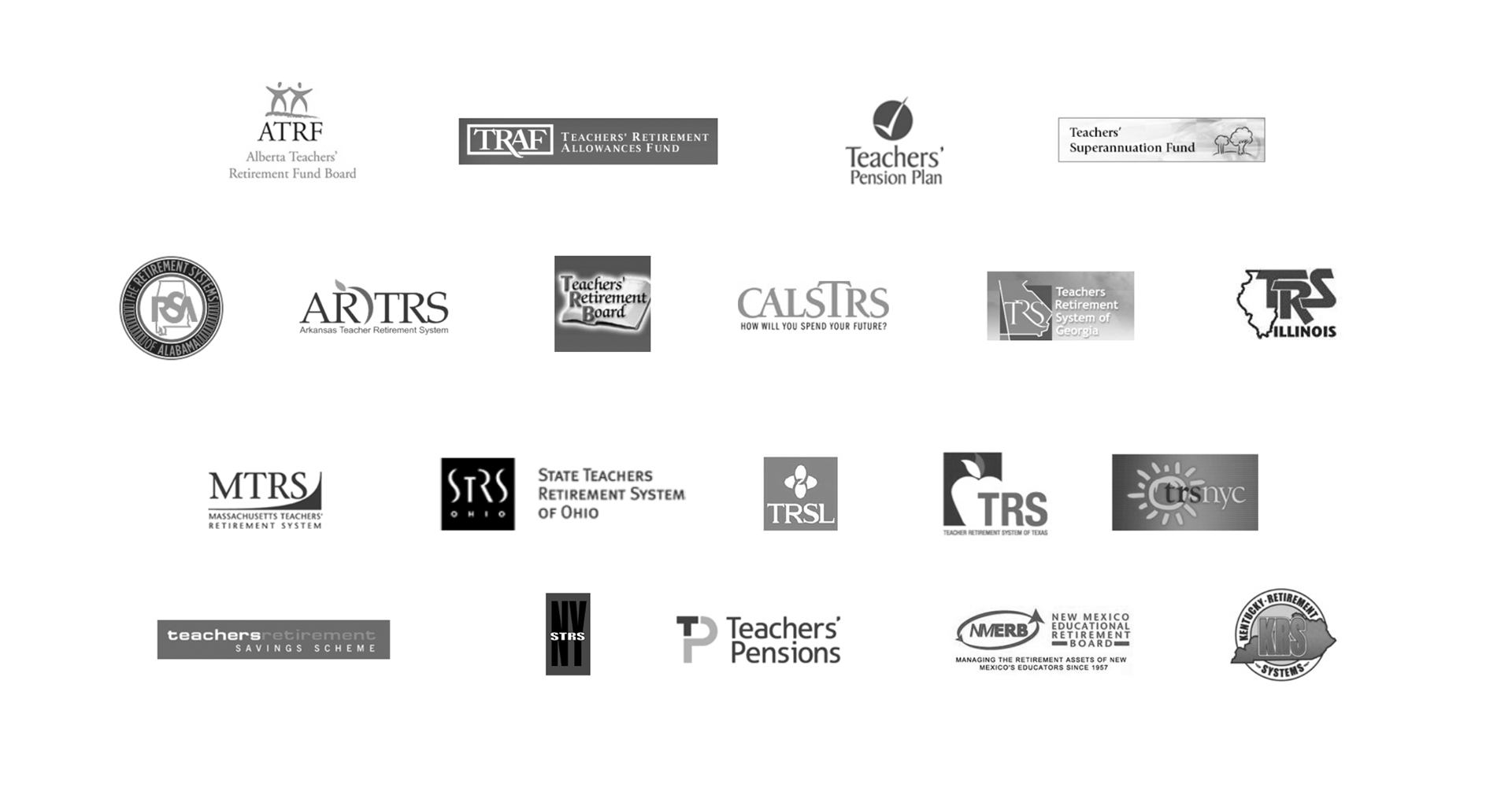 It was essential to develop a unique new brand with global appeal that would better reflect the organization's evolving strategy, while still maintaining a connection to its history and geography.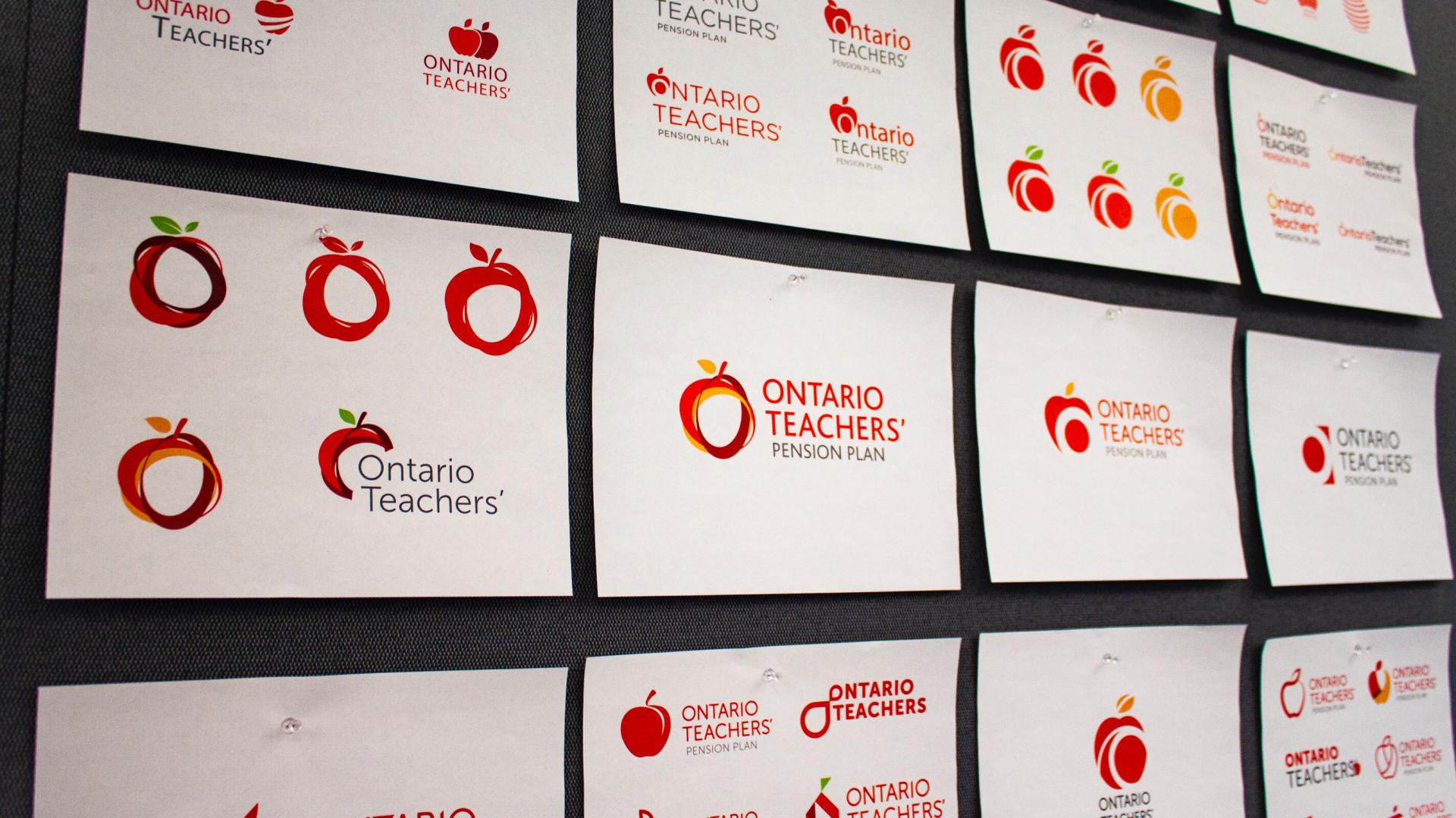 Finding purpose and positioning
Works Design coordinated with a research and advisory firm to make use of extensive qualitative studies on Ontario Teachers' global reputation. We supplemented these with a comprehensive brand audit of the plan's global peer group, and conducted additional qualitative research into international audience perceptions around colour and imagery, held interviews and working sessions with key leaders from Ontario Teachers' worldwide investment team, and collaborated closely and shared information with its Communications Group. This led to the development of a unique and defendable positioning statement and core narrative that would last Ontario Teachers' for many years. From this, Works Design created both a new logo and a new operating name.
Logo with a legacy
In fall 2016, coinciding with the opening of its new office in London, England, the Ontario Teachers' brand was launched. The new operating name clearly distinguished Ontario Teachers' from similarly named peers, while its new tagline, "Pensions mean the world to us," is a true reflection of the organization's purpose and global scope. The new logo is a bold red apple, characterized by dynamic lines and a gold leaf. Red is considered an auspicious colour by cultures around the world, while gold is universally recognized as a symbol of prosperity. Interestingly, our research found that apples are associated with teaching only in North America and parts of northern Europe. However, other positive associations, including health and growth, are widespread across cultures. Guided by these findings, we kept the apple, both as a link to Ontario Teachers' past and as a compelling symbol of its ongoing success.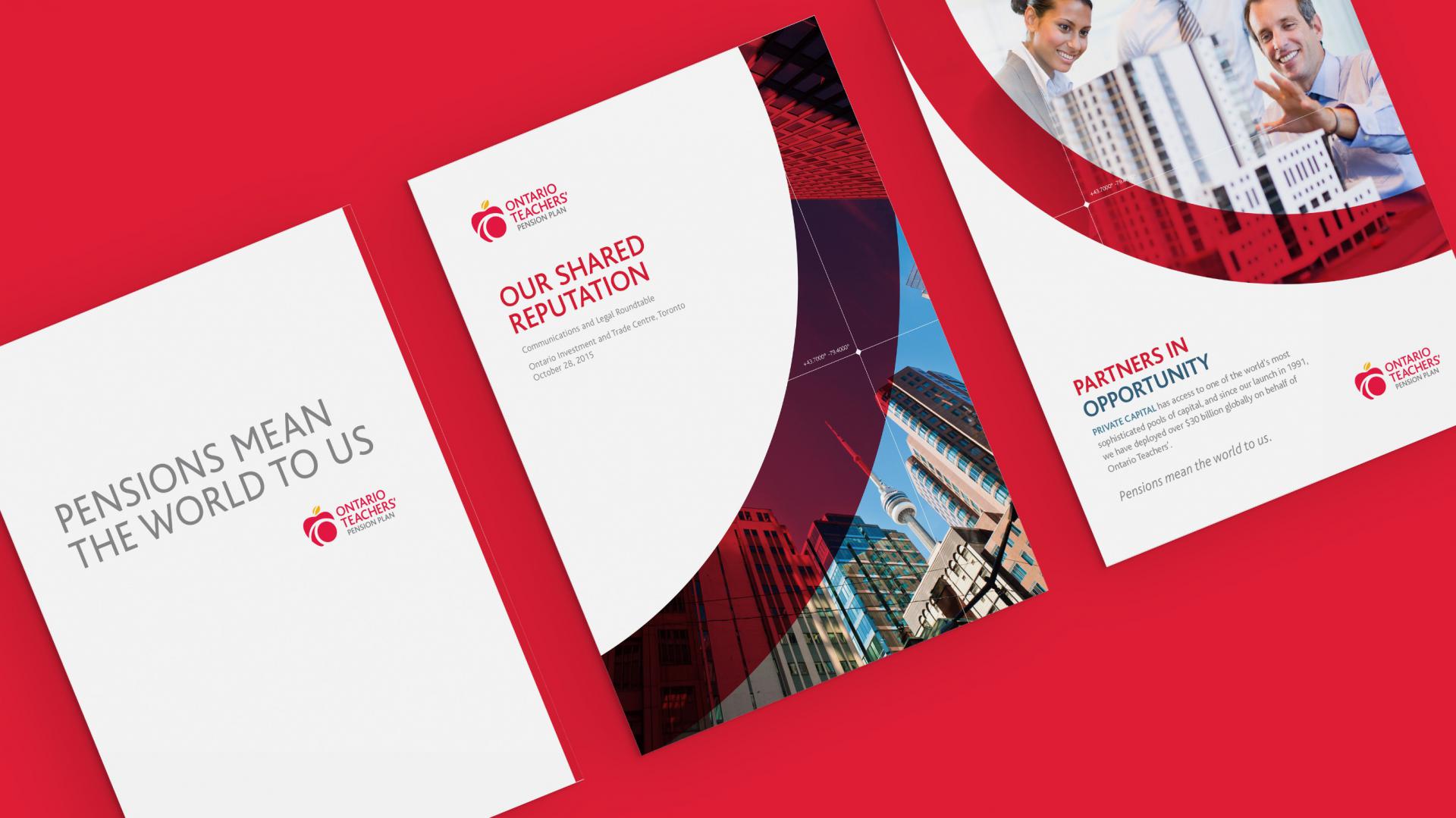 Lead, learn, last
Works Design has designed and produced Ontario Teachers' annual report for over 15 years. In each report, we strive to communicate performance in a friendly and professional manner, highlighting specific achievements made during the last reporting period. The approach is designed to support stakeholder confidence by showing that Ontario Teachers' has the right investment strategy, and an ability to follow that strategy to fulfill the pension promise. In recent years, the creative has evolved into bolder, more colourful expressions of the brand, reflecting the agility and energy of the organization as it pivots to make increasingly innovative investing decisions.
In 2019, the layout was shifted to a horizontal format (in keeping with trends in corporate reporting). The outcome is a better reading experience on a desktop monitor – where most stakeholders will see the report. Themed "We Lead, We Learn, We Last," the report includes an engaging introductory section that promotes Ontario Teachers' core operating philosophies. In turn, it describes a constant drive to challenge the status quo and find new ways to adapt strategic thinking, and reiterates an unyielding commitment to serve members and partners with respect and dedication. To support and complement each annual report, Works Design creates a complete suite of materials – including an AGM video, social media templates, a summary report and, most recently, a reporting microsite. The single-page website combines financial highlights with key information about Ontario Teachers' responsible investing strategy.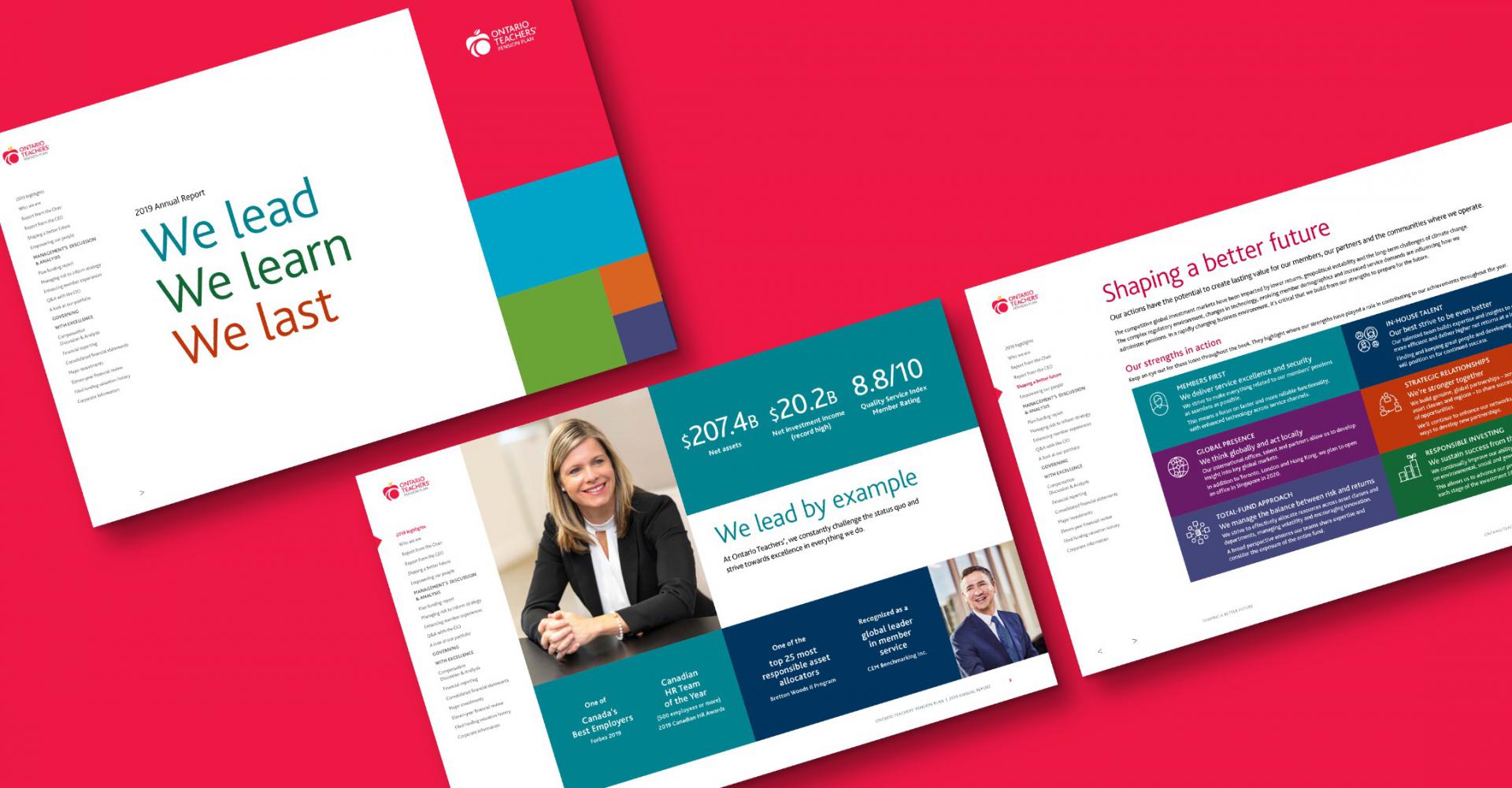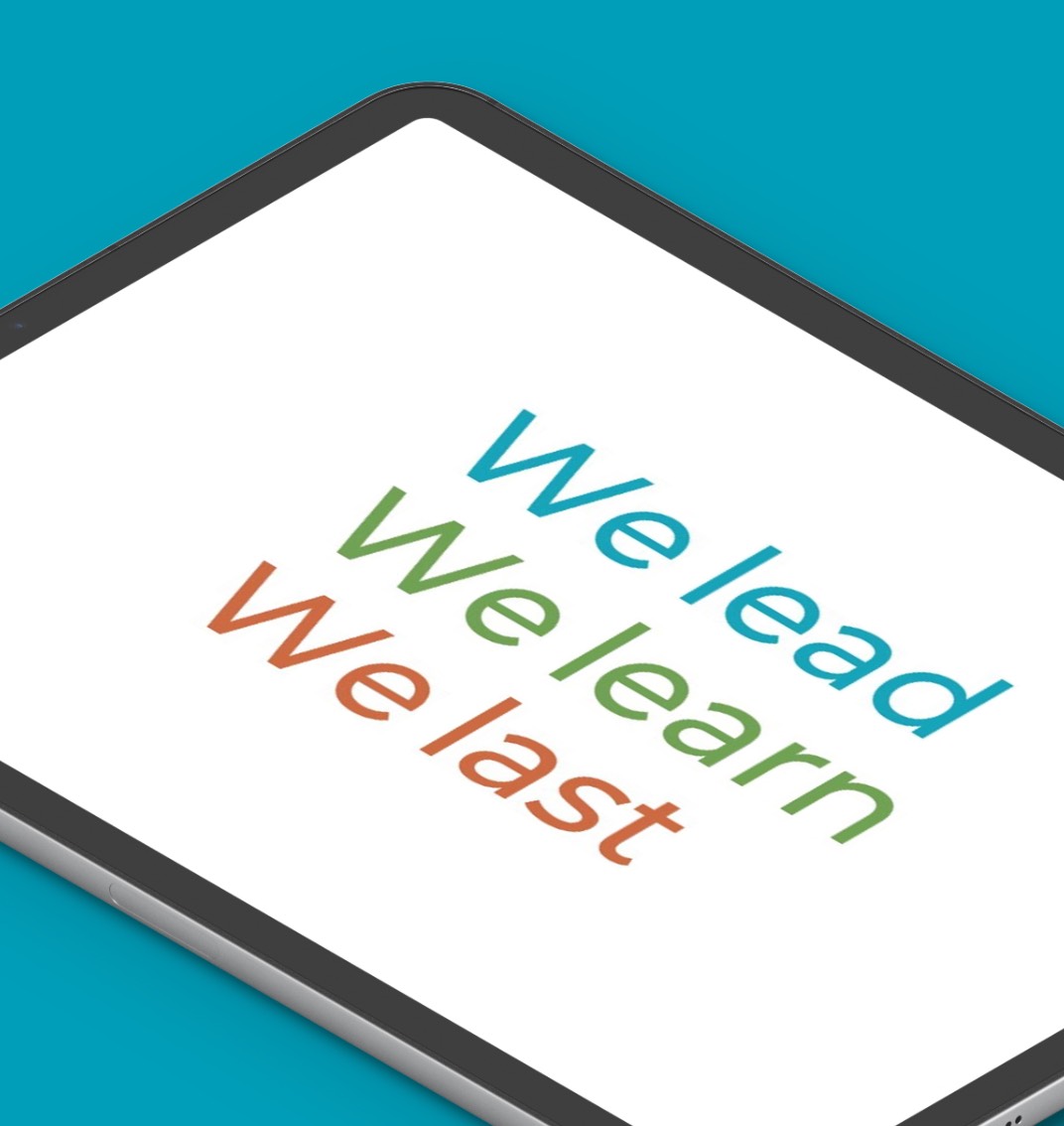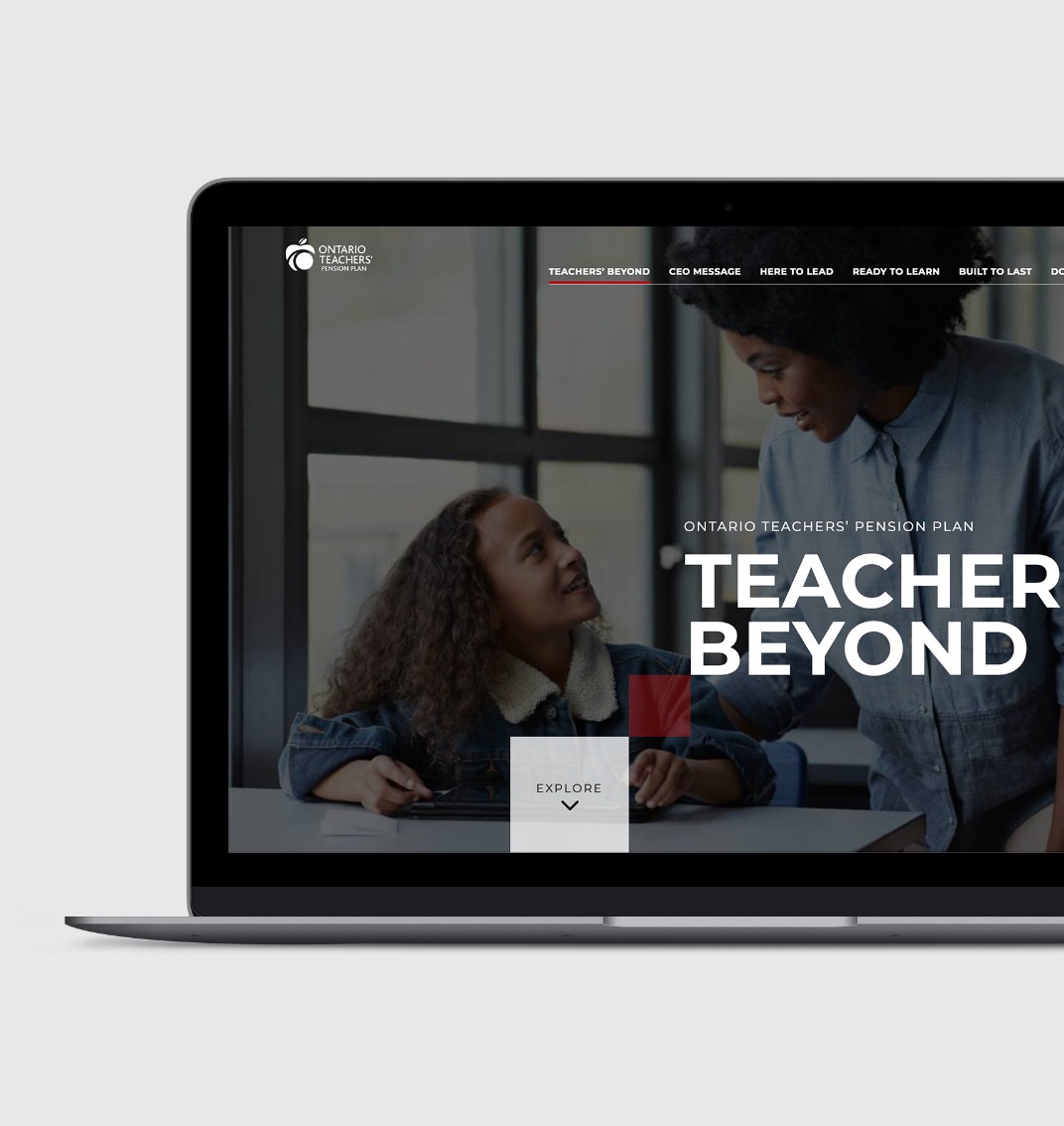 Evolving ESG
Ontario Teachers' has produced a responsible investing (RI) report with Works Design since 2016, and has since expanded its ESG disclosure to include a separate climate change report. By highlighting key partnerships and engagements, the RI report functions as an organizational tool: in an approachable way, the report shows how responsible investing practices can lead to better financial returns (while also contributing to positive social and environmental impacts). Published as a companion to the 2019 Annual Report, the latest iteration of the RI report details Ontario Teachers' efforts to adapt and improve its responsible investing processes – an ongoing evolution that is key to long-term success, as the world evolves and new risks and opportunities arise.
Leveraging themes from each responsible investing report, Works Design develops an interactive climate change report. Custom illustrations help visualize key concepts, such as Ontario Teachers' signpost direction.