International Women's Day – celebrated on March 8th – is a global day celebrating the social, economic, cultural, and political achievements of women. This March, we're turning our focus to the Women of the Works. Each week we'll highlight a few our outstanding people, and share their answers to key questions about mentorship, their successes and what they hope for the next generation of young creative leaders.
Our first interview is with Kathy Sauder. As one of our most experienced proofreaders, Kathy ensures correct punctuation, consistent application of style and flawless layout for our clients. She also provides copy editing services to a number of the organizations that we work with. At the Ontario Library Service, Kathy was an accessibility superstar, working to create audio textbooks for the visually impaired.
Kate Heron: Tell me about the very first place you worked on or around design/communications.
Kathy Sauder: I worked at the Whitehorse Star, a daily that was particularly relevant during the "No Gold Rush" year of 1978 when a lot of Canadians (the unemployed and businesses) were excited about the projected natural gas pipeline, though not anyone familiar with the Berger Report. There were two daily papers, lots of politicians flying in and out and plenty of tension. I worked on my own 4 till midnight typesetting articles for the following day. The Star is where I first learned about fonts, leading, point size, measure (and accuracy). With just those few variables, you could make an article as readable and attractive as possible.
KH: What was it like working in that environment?
KS: It was a breeze during the summer when the sun never set, not so much by December when even breathing was a challenge in the air inversion over town from vehicles and wood smoke. You were living in a remote, pristine frontier, under a crackling aurora borealis, but the 24-hour CP wire service connected you to the world (Reagan!). The content of the paper was wide-ranging: We were intrigued by the weekly pieces from aboriginal Old Crow, north of the Arctic Circle and accessible only by air, and unnerved by the corporate news releases from drill sites in the Beaufort Sea.
KH: How did the way you worked then differ from how you work now?
Some of the tools were primitive by today's standards — hot wax and rollers to paste the photographic paper, and putty knives to clean the wooden layout tables. The floors were a sea of paper and loose wax. On the other hand, the newspaper had embraced phototypesetting — a Compugraphic machine filled a room of its own — and if I could remember where I had keyed in a wrong character or code, I might be able to count backwards beyond the 20-character display screen; the only other option was to rekey the whole piece. So really, it was easier just to not make errors — and that became my goal every shift.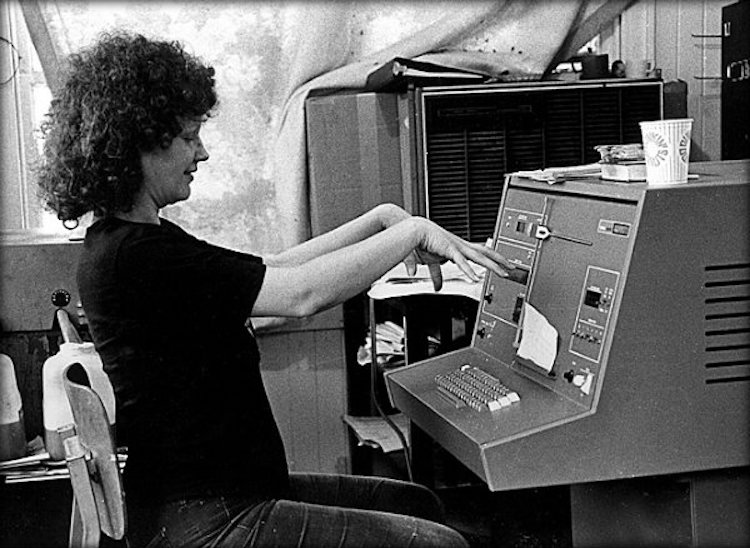 KH: Would you say you have had any mentors or role models who have influenced the way you do your job?
KS: My most influential manager was a legendary book editor in B.C., Marilyn Sacks. I had managed to get a job as a receptionist at the trade book publisher Douglas & McIntyre on the strength of my typing skills, and one day was thrown into book production on The Art of Emily Carr by Doris Shadbolt. It was the chance I hoped for. The careful reading of galleys took two people and two sets of galleys, one reading aloud, the other following along. When Marilyn discovered that I remembered how a particular word was handled 40 pages earlier, I was suddenly essential to her overworked department — she was the department — and she took me under her wing as a junior editor.
KH: What was special about her?
KS: She was both overworked and generous, teaching me and others a wide range of skills over the next six years, everything from line editing to author/editor diplomacy and keeping down the costs of alterations. And although American, Marilyn was intent on developing and promoting Canadian usage in publishing. D&M produced an amazing backlist of non-fiction all through the '80s, particularly western history/environment and native history and art.
Stay tuned through the rest of March, as we highlight more of the fabulous talent at Works Design.