In honour of Black History Month, our team has been sharing stories throughout February about Black individuals past and present who inspire them. It has been a revelation to hear and learn more about these incredible people, so we thought we would share them with the world outside our studio.
Meet Matt Baker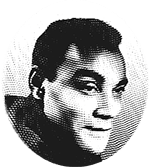 Matt Baker was the first Black comic book artist.
In 1950, St. John Publications released the "picture novel," It Rhymes with Lust, written by Arnold Drake and Leslie Waller (under the name Drake Waller), illustrated by Matt Baker and inked by Ray Osrin. It is considered by many to be the first graphic novel.
"Truth be told, the book is a potboiler, with the story and dialogue patterned after B-movie crime thrillers and film noir. It was Baker's precise and evocative drawing that kicked It Rhymes with Lust up into A-picture status," says our Director of Strategic Communications, Eric Johnson.
In 1959, Matt Baker died at age 37 from a lifelong heart condition. In the years since his death, however, he has been acknowledged as one of the premier artists of the golden age of comics and a true pioneer.
Eric continues: "Baker was active during the 1940s and '50s, when artists typically were not credited, so his name wouldn't have meant anything to most readers, but they certainly would have recognized his art."
You can view some of Matt Baker's art here.
Meet Leah Thomas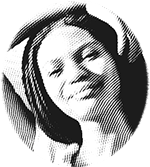 Leah Thomas is an environmentalist who uses her passion for writing and creativity to shine a light on the critical, yet often overlooked, relationship between social justice and environmentalism. Leah founded the non-profit Intersectional Environmentalist to advocate for environmental justice, provide educational resources, and promote inclusivity and accessibility within the environmental movement.
"I admire her ability to create engaging conversations about environmentalism, while simultaneously highlighting the often-overlooked fact that BIPOC disproportionately suffer the consequences of poor environmental conditions and climate change. Environmentalism needs to be fundamentally anti-racist," says our Project Coordinator, Emily Mitchell.
Check out Leah Thomas's website and Instagram to learn more about her non-profit and mission.
Meet Angela James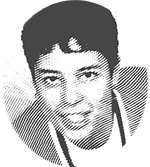 Born in Toronto in 1964, hockey superstar Angela James faced challenges growing up as one of the few mixed-race children in her neighbourhood, often channelling this negativity into a passion for a variety of sports, but she took an extra-keen interest in hockey. Historically, hockey has been beset with race and gender problems, which eight-year-old Angela first learned after her mother had to threaten legal action against the officials who opposed her inclusion in the local boys' house league.
James continued to break barriers in the hockey world, playing in several different leagues, including the Ontario Colleges Athletic Association, the Central Ontario Women's Hockey League, the National Women's Hockey League and the Ontario Women's Hockey Association. Always a big-game player, James scored the first goal in Women's World Hockey Championship history, leading Team Canada to victory in the first official game in 1990.
"Angela James was a big inspiration for me as a kid. She was really the first flashy superstar in women's hockey and I remember watching her in the first World Championships and wanting to play like her: tough, fast and scoring lots of goals!" says our Proofreader, Claire Cheverie.
James went on to become one of the first women to be inducted into the International Ice Hockey Federation (IIHF) Hockey Hall of Fame and the Hockey Hall of Fame. She is also in Canada's Sports Hall of Fame and has been named to the Order of Hockey in Canada. Today, she is the co-owner and General Manager of the Toronto Six of the Premier Hockey Federation as well as Senior Sports Coordinator at Seneca College in Toronto.
Meet Alexis Nikole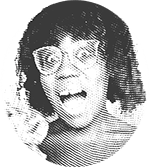 Alexis Nikole, also known by her Instagram handle @blackforager, is a foraging teacher, cook, internet personality and environmental science enthusiast. Born in Ohio, her mother first showed five-year-old Alexis how to forage by introducing her to onion grass. From the Indigenous roots of foraging in North America to the sustainable ways her viewers can include wild plants and mushrooms in their diets, Alexis uses her platform to educate people in a fun and engaging way – she even earned the inaugural James Beard Award for Best Social Media Account in 2022.
"Her videos are extremely informative and joyful! I have not been foraging myself, but I will always be appreciative of how she shares her knowledge and experiences so openly online," says Works Design's Production Coordinator, Chelsea Watt.
Visit Alexis's Instagram or TikTok to learn how you can incorporate foraging into your diet.
Meet Sister Rosetta Tharpe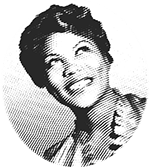 Born in 1915, Sister Rosetta Tharpe, often referred to as the Godmother of Rock and Roll, gained popularity for her unique mixture of spiritual lyrics and electric guitar. Tharpe's use of heavy distortion on the guitar opened the way for the rise of pop-gospel and electric blues, influencing numerous popular musicians, including Johnny Cash, Little Richard and Elvis Presley.
After releasing her first records, Sister Rosetta's career took off. She became an overnight sensation, signing a 10-year contract with Millinder, performing at Carnegie Hall and the Apollo, and touring Europe.
Sister Rosetta died in 1973, but her story and impact on music have since been highlighted in a biography, several NPR segments and scholarly articles. Other honours include a dedicated U.S. Mail stamp and her inclusion in the Rock and Roll Hall of Fame as an early influence.
"I was introduced to Sister Rosetta Tharpe on a podcast last year and after hearing her music, I was hooked. I loved learning that it was a truly powerful woman of colour who was the real talent behind much of what modern music is based on," says our Writer, Stacey Hellas.
Ready to hear Sister Rosetta Tharpe rock? Check out her live performance of "Didn't It Rain?" from 1964.
Meet Jacques Bastien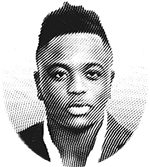 When Haitian-born New Yorker Jacques Bastien first entered the marketing world as a graphic designer, he saw a need for diversity in the space – specifically in stock photography. Taking matters into his own hands, Jacques founded Boogie Brands, a holding company comprised of brands that help create a more inclusive world, and later launched Nappy, a free stock photography website that offers beautiful, high-resolution photos of Black and Brown people, making it easy for companies to be purposeful about representation in their work.
"Early in my career, I often found myself searching mercilessly for stock photography that featured some diversity. When a friend introduced me to Nappy, I was ecstatic to see a company that was addressing the lack of diversity in the business and marketing world – specifically in stock photography," says our Social Media Manager, Pearl Maguire.
Visit Nappy today to browse their large selection of diverse stock photography or check out some of Jacques's other brands, including SHADE, an influencer marketing agency helping brands stay relevant within Black culture.
––––––––
Thank you to our Works Design team for sharing these stories and helping our studio, and beyond, learn more about some fascinating individuals!