Corporate Website and Sustainability Strategy
Maple Leaf Foods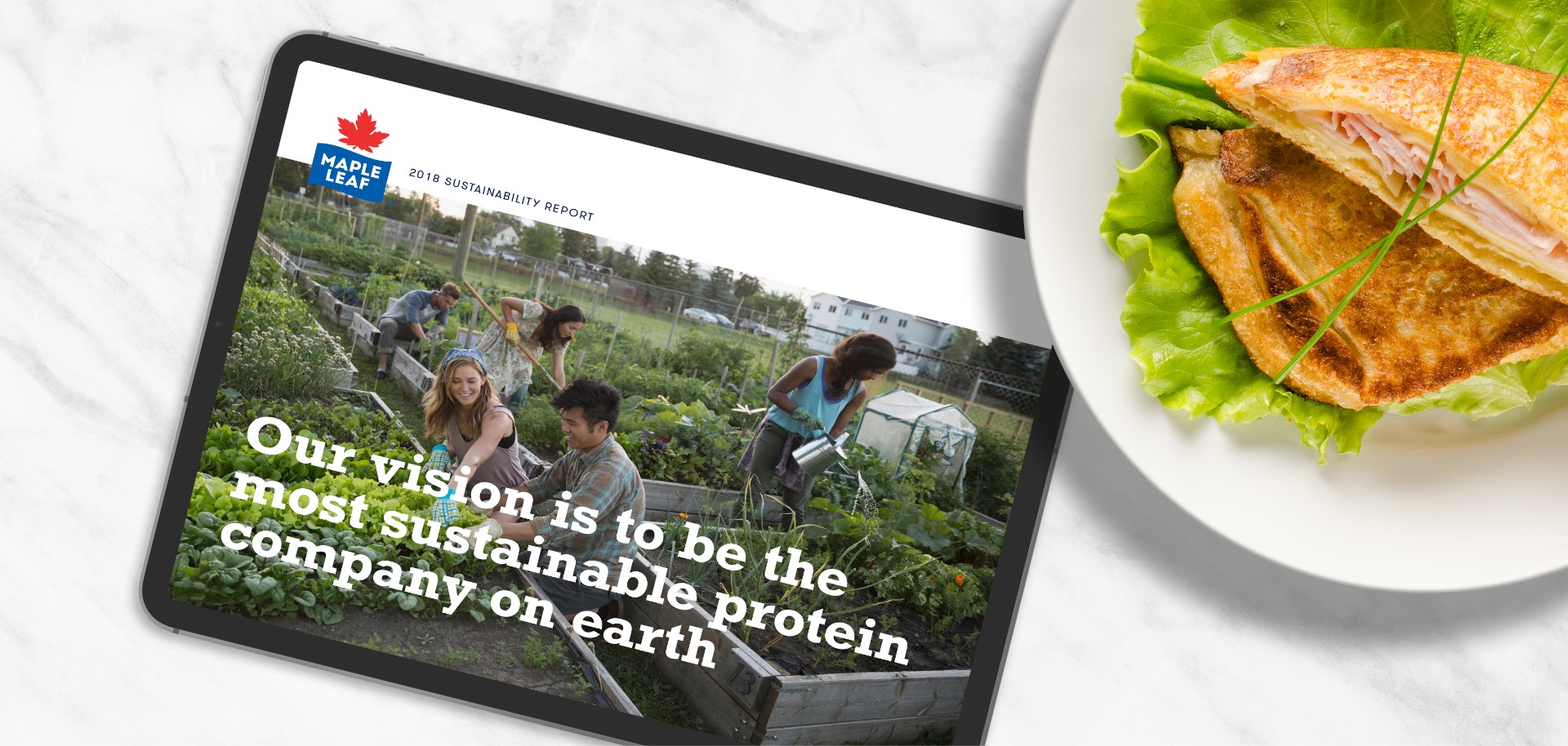 Delivering an online experience as good as what Maple Leaf puts on the table.
What We Did
Investor and Stakeholder Engagement
Materiality Assessment
Sustainability Reporting
Website Design
Website Development
Client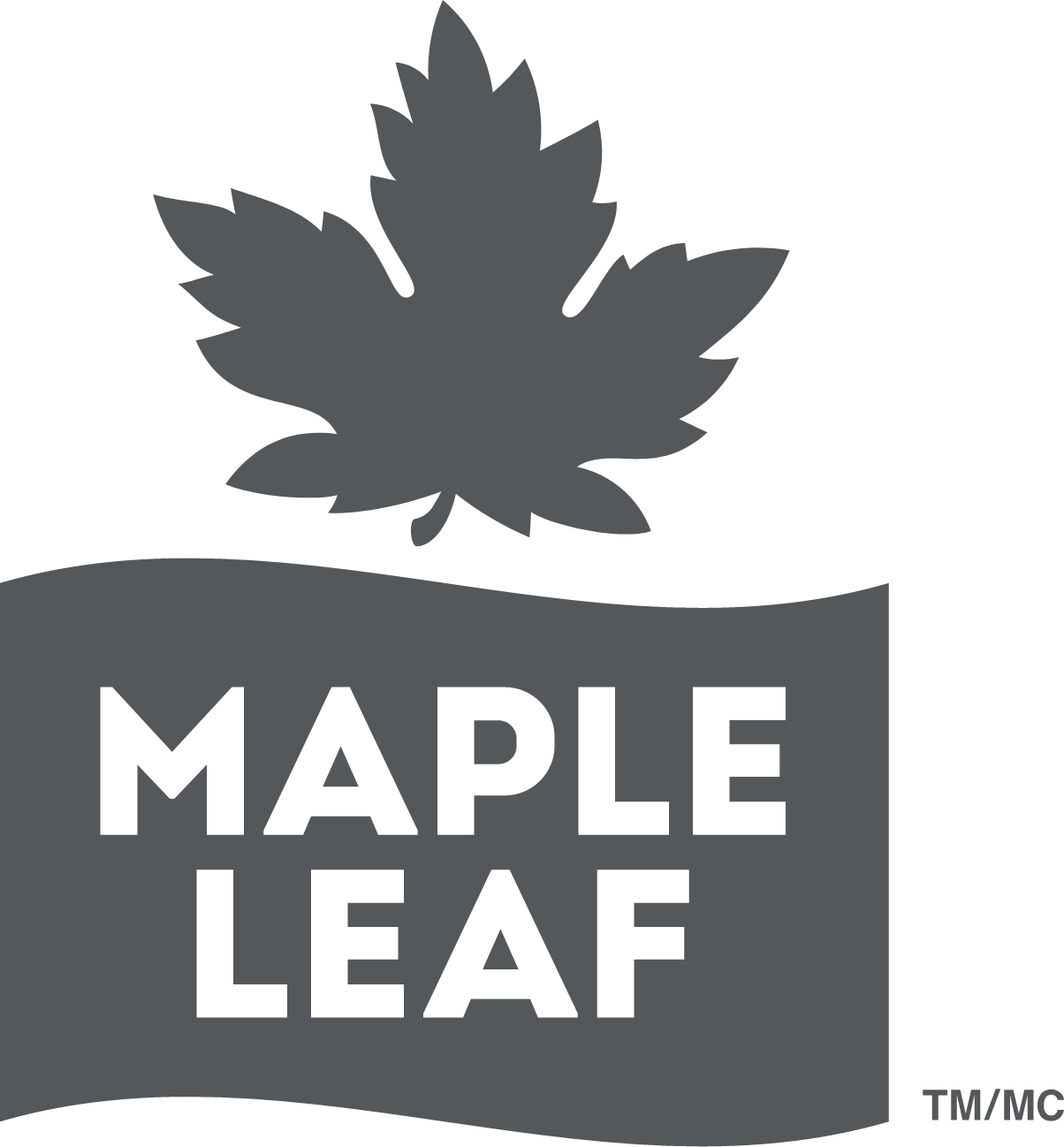 New purpose, new presence
In 2018, long-time client Maple Leaf Foods (MLF) challenged Works Design to develop a dynamic website reflecting its new and ambitious vision: To Be the Most Sustainable Protein Company on Earth. The existing MLF site was not WCAG-compliant, and material was buried in a convoluted information architecture. Internal teams found the content management system unusable, and sustainability (an essential part of Maple Leaf's identity) was siloed off in a microsite. A brand relaunch was imminent, so it was the perfect opportunity to "blow up" the website. The goal was to offer a user experience with modern energy – one that would showcase an ambitious company, striving to feed the world better.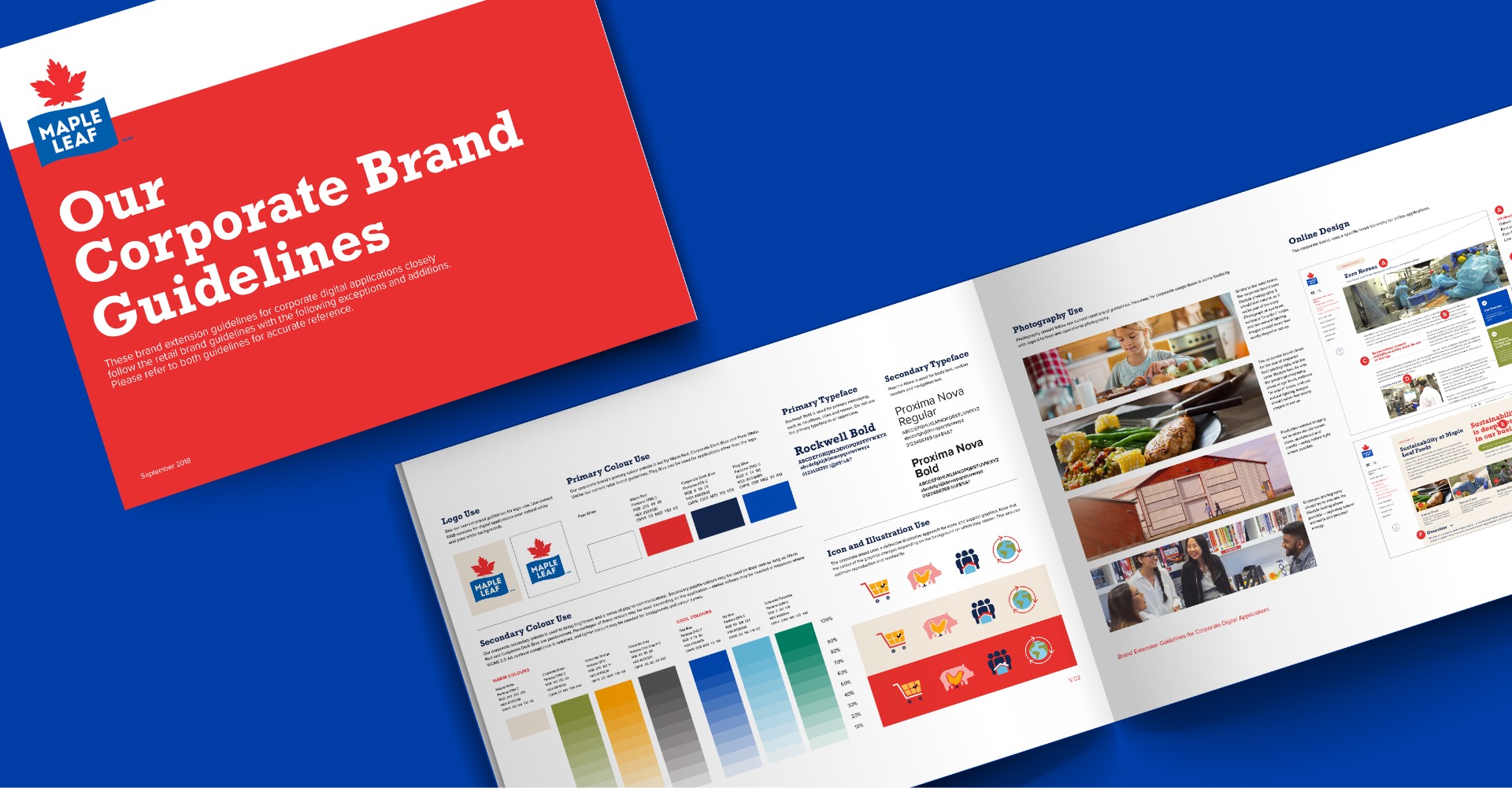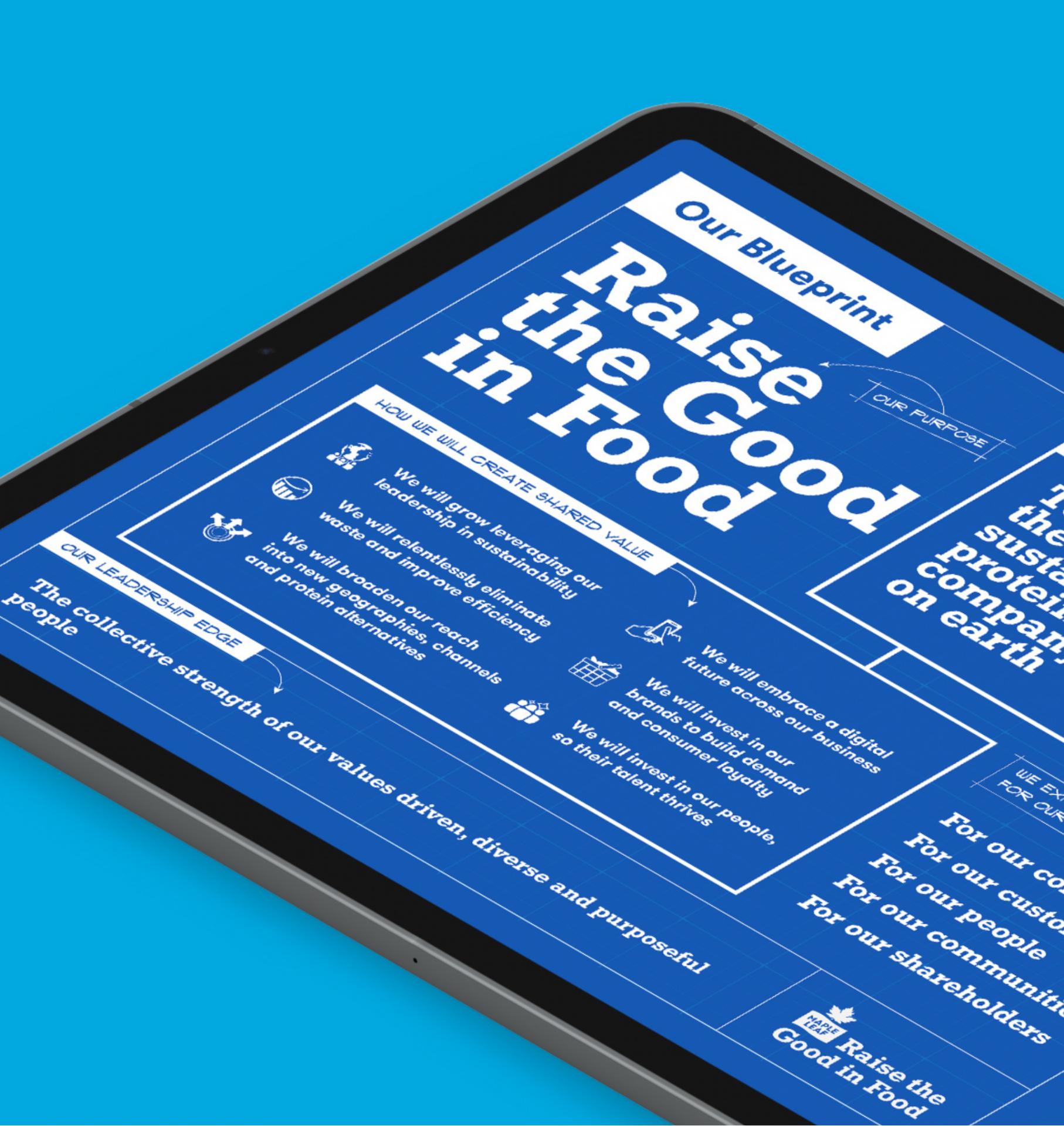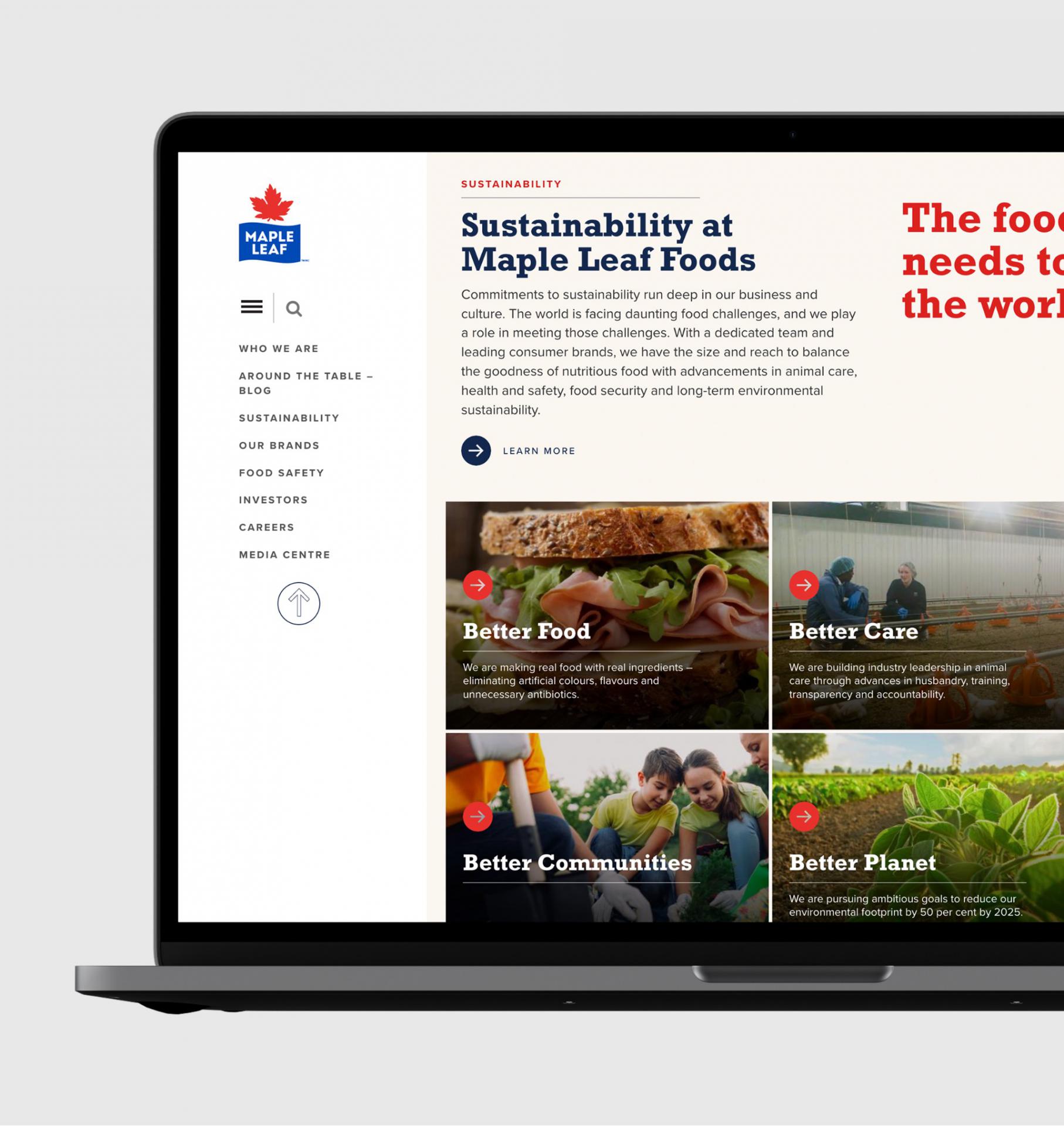 Rebuilding the foundation
After reviewing and cataloguing all existing content, our respective teams collaborated on a new information architecture. Content was reorganized in a more intuitive way, and Works Design's UX team developed a straightforward, persistent menu to guide users to important content. The landing page is a responsive photo gallery that allows Maple Leaf to dynamically elevate the latest and most essential content. Thought leadership around their long-term vision was the driving force behind this feature, but news releases and recall information are also now more readily available to users. A best-in-class investor relations section brings forward the latest disclosures and press releases in desktop, mobile and tablet views – while giving easy, no-nonsense access to the full archive of reports.
By the end of 2019, Maple Leaf Foods had made huge strides against its purpose-based objectives. It became the first company in Canada to secure sustainability-linked terms for credit, and the first food company to set science-based targets to reduce emissions – all in alignment with Paris Agreement goals.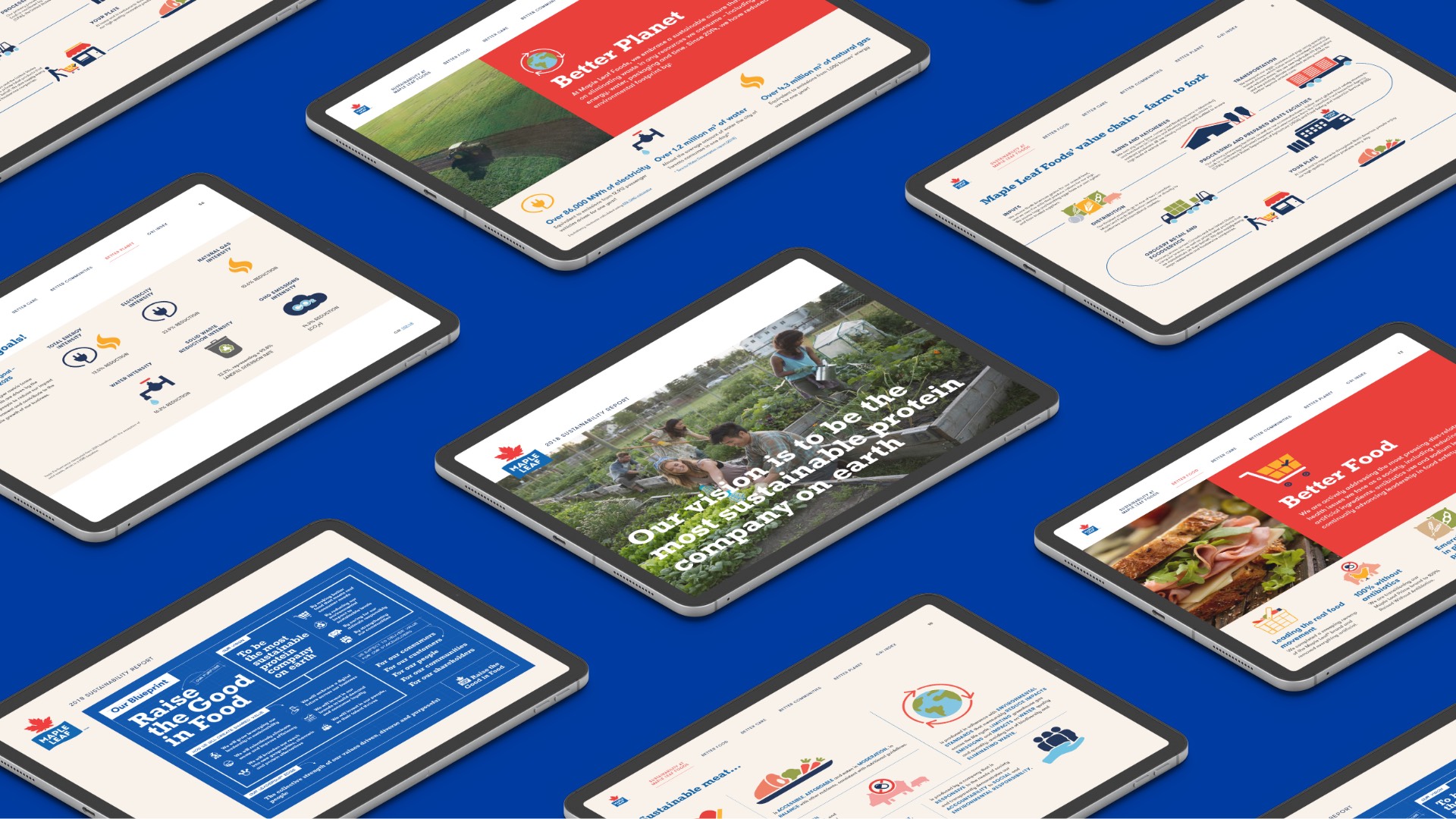 Evolving reporting
Works Design has produced Maple Leaf's annual and sustainability reports since 2012. We have supported the development of MLF's overall strategy and corporate purpose statement; conducted stakeholder engagement and materiality assessments; and ensured ongoing alignment with key reporting frameworks. Over time, we have watched sustainability become totally embedded in Maple Leaf's corporate strategy.
Promoting a sustainable vision
In 2020, this led to a natural evolution in the company's reporting practices. Maple Leaf agreed it was time to put sustainability at the forefront of its online experience, and highlight it as a constant, vital commitment. Instead of producing another once-a-year, moment-in-time report, Works Design reimagined content across the entire website. The website's sustainability silo is now a live reflection of MLF's values-based activities, goals and targets. Key areas are enriched with interactive diagrams, videos and downloads. For analysts in particular, we developed a unique Sustainability Report Builder that incorporates components from a fixed point in time (such as the GRI Index), and it can also extract text from pages with updated policies and approaches.