Sustainability Reporting and Consulting
BMO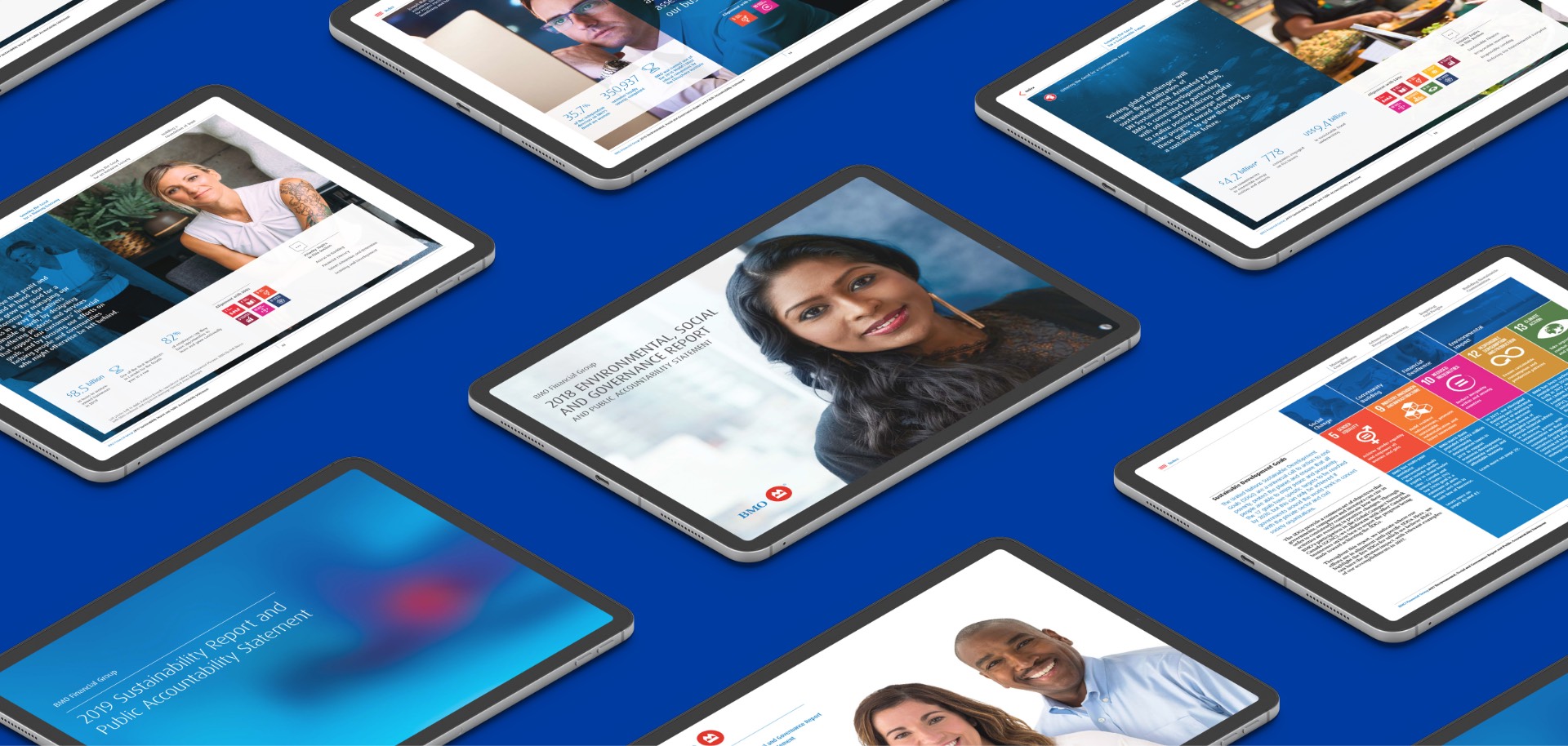 Best-in-class reporting for a bank seeking to Boldly Grow the Good.
What We Did
Consulting
Copywriting
Design
Sustainability Strategy
Client

Developing leading disclosure
BMO Financial Group is a Canadian multinational banking and financial services corporation. It is the fourth-largest bank in Canada by market capitalization and assets, and one of the 10 largest banks in North America. As it expands to new markets, BMO works continuously to strengthen the bridge between its financial investment strategies and long-term sustainability. For four years, Works Design has supported BMO in developing its environmental, social and governance report and public accountability statement, initially as writers and advisors on content and design, and since 2017, in the capacity of a full-service agency.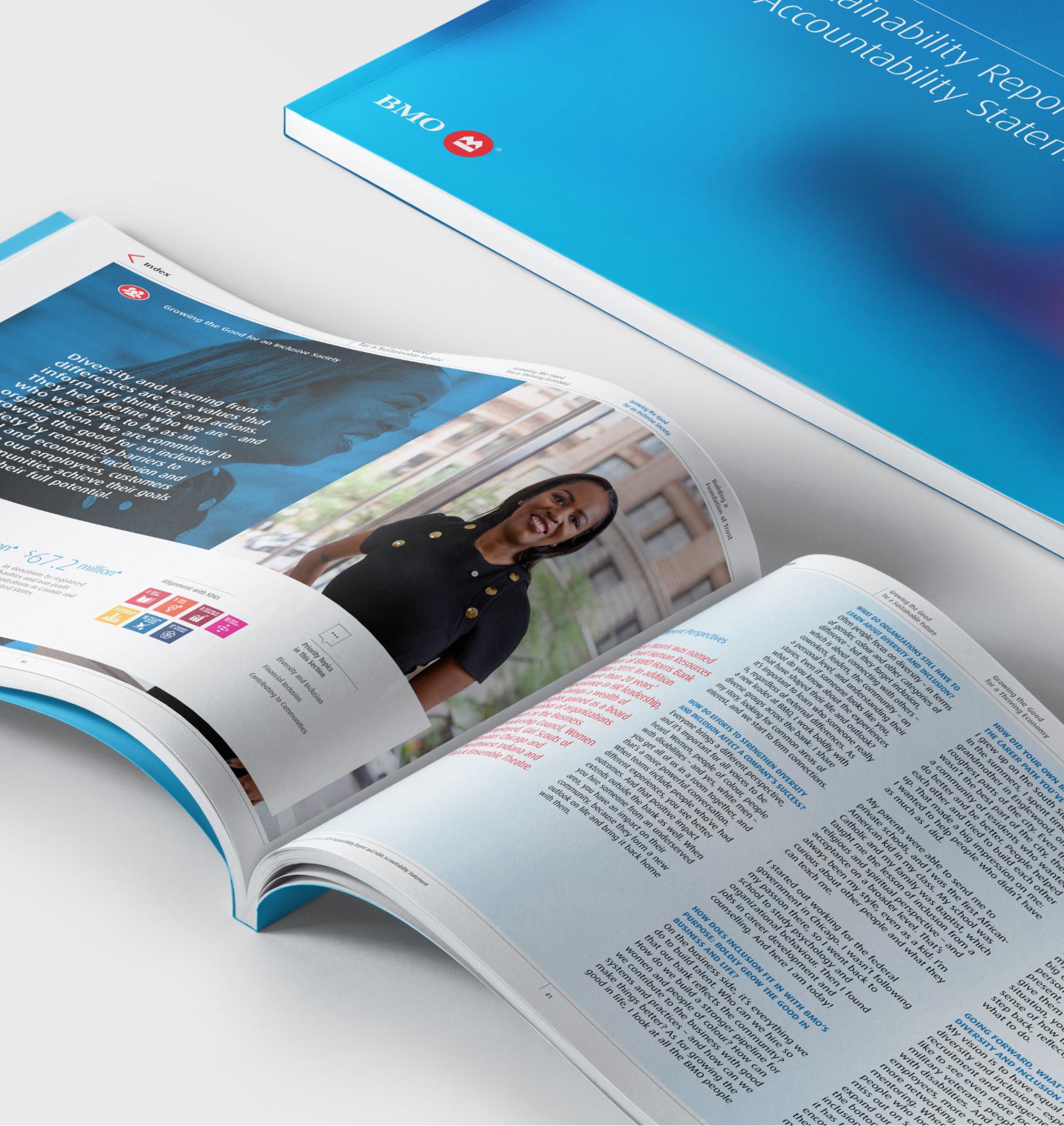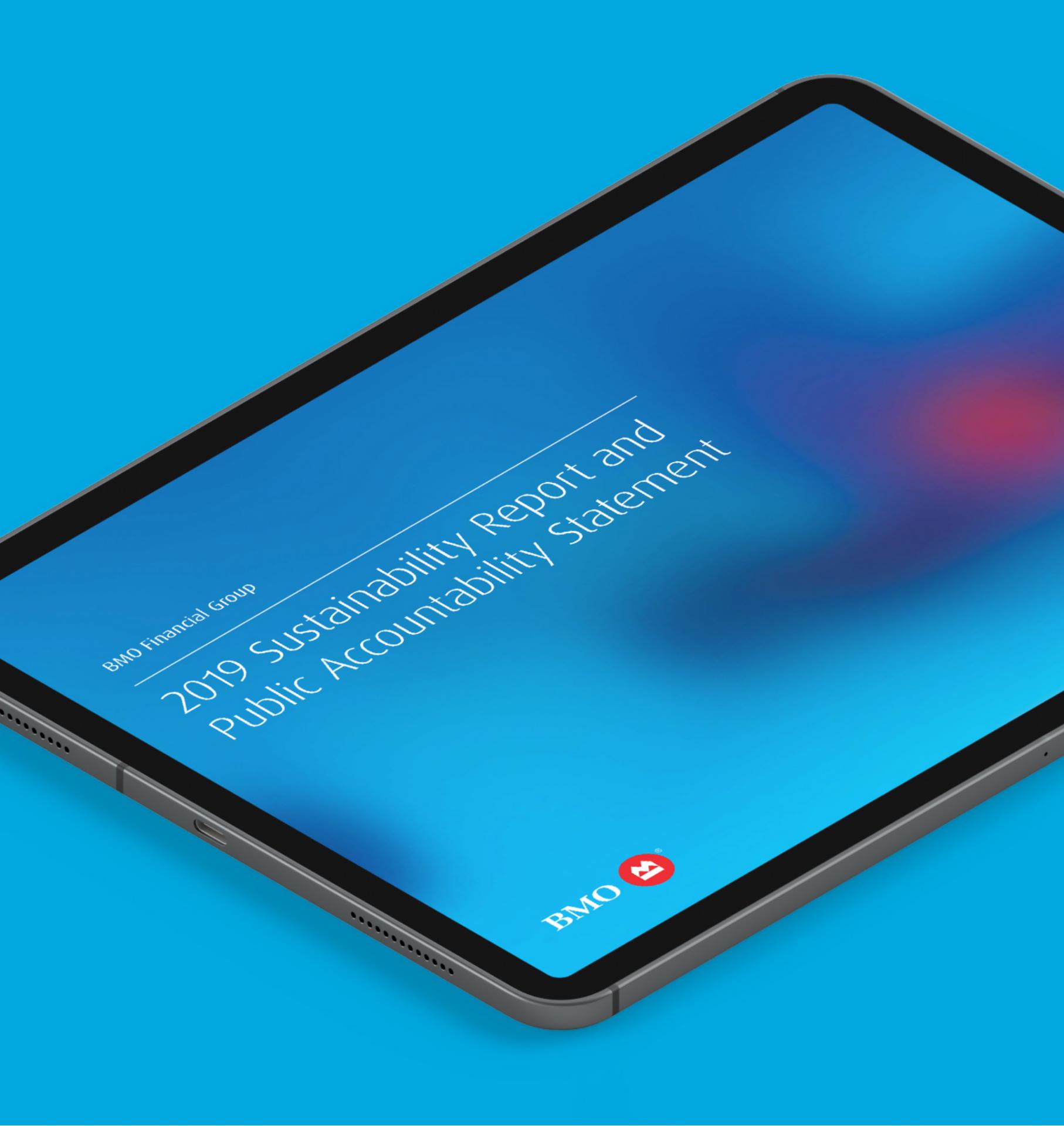 Together, Works Design and BMO collaborate to produce reports that will speak to everyone – customers, employees, investors, suppliers, regulators and the wider community.
Understanding what matters most
To create the most meaningful content, the sustainability team and writers from Works Design engage directly with ESG subject-matter experts from BMO's head office and regional centres, along with external stakeholders. This helps to clarify the issues that matter most, and also to frame complex content – such as responsible investing and business conduct or privacy and data security – in a way that audiences will understand. The benefit of speaking directly with external stakeholders is twofold: we get a sense of their existing level of understanding while also gathering valuable testimonials and stories that can be used in the final report.
Meeting audience needs
When developing BMO's 2018 Environmental, Social and Governance Report and Public Accountability Statement, this direct engagement really helped ensure that our reporting approach (including the design and overall messaging) was on point. For customers and community groups, we wanted to be sure that terms specific to responsible investing were universally understood. So, throughout the report, we included call-outs that used plain language to explain why a variety of concepts were important to the bank. We also wanted to reassure these stakeholders that the issues that mattered to them also mattered to BMO. In our materiality assessment, for example, we identified that data privacy and security was top of mind for almost all stakeholder groups – but the bank cannot disclose many details about its specific tactical approach. Our strategy was to include quotes from internal stakeholders acknowledging that data security is integral to the success of the institution, communicating the clear message that it is a shared priority.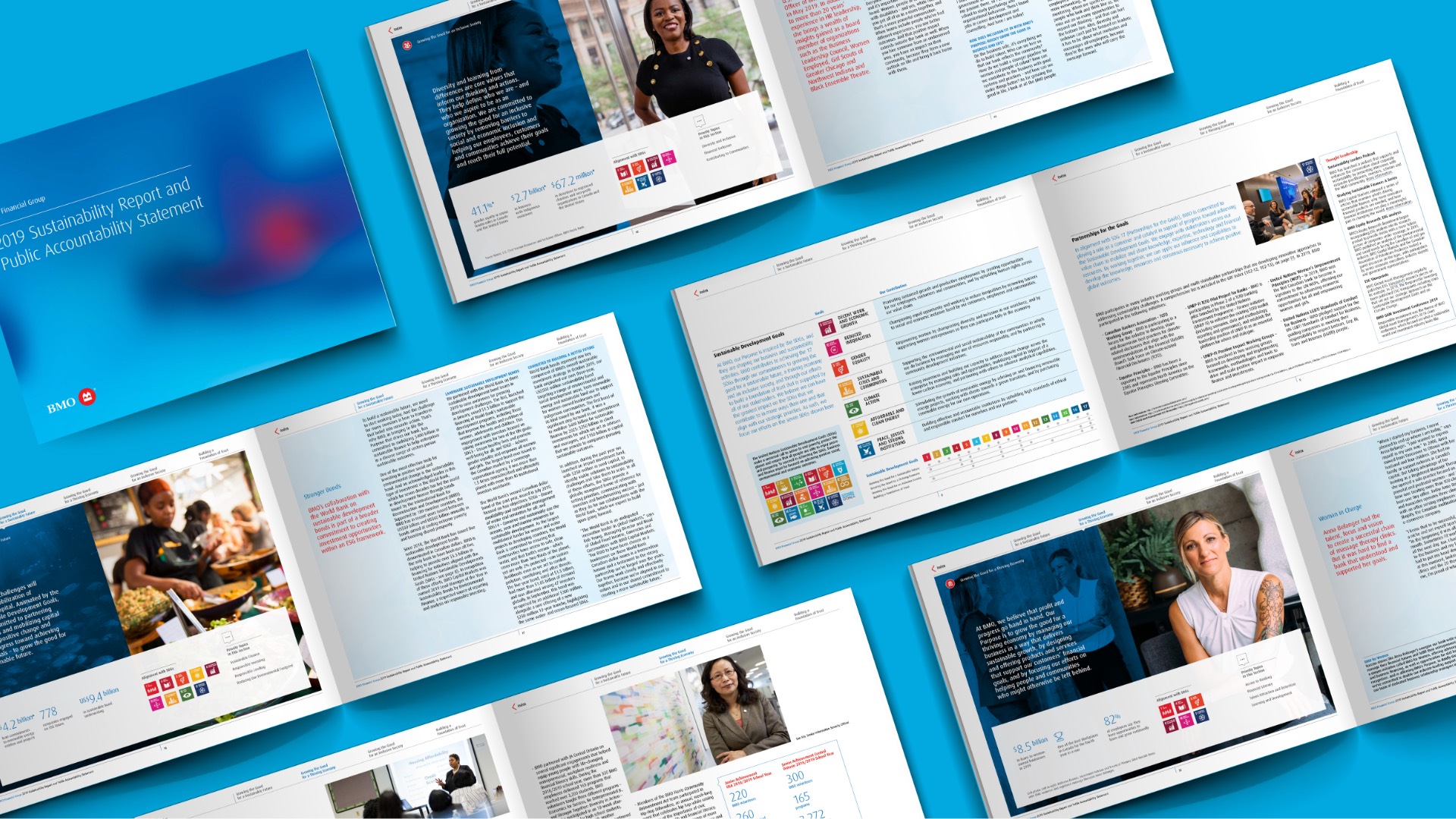 Continuing to lead
In 2019, the ESG report and PAS was refocused around a purpose-driven message – specifically, BMO's recently released "Boldly Grow the Good" commitment. The design builds on the structure of the 2018 report, while the theme evolves the feel of the content, which includes many new stories and vignettes. In a nod to strategic integration, the ESG report and PAS has consistent visual and narrative ties to BMO's annual report. Always seeking to solidify a leadership position, BMO has continued its alignment with the GRI Standards, while including new, additional content relating to the creation of shared value. Works Design provided support as BMO incorporated its response to newer global frameworks: the TCFD, SDGs and SASB. For analysts, we created a concise ESG scorecard that clearly shows progress toward long-term targets. Later in the report, a separate section provides specific context relating to BMO's ESG performance. A variety of metrics have near-term targets and link to more granular information and reports on topics such as environmental performance.